Dear IPA Members and friends of Idaho Pathfinders Association:
On weekends and days off, so many of us recreation enthusiasts are escaping the wacky world for the peace, tranquility and fun with friends and family that is gained by jumping in the ATV or Side by Side for a ride in the mountains. To breath the fresh pine air and hit the trails (when all the snow melts off) refreshes and rejuvenates the soul. It is one of the blessings we count.
If you are one of those who LOVES to hit the trails in our national forests here in the central Idaho region, you know that we as a community of people must constantly defend our access to various trails from Kirkwood Ranch trail a few years ago to the most recent battle waged on the historical Milner Trail.
Idaho Pathfinders Association exists to fulfill our mission:
In a nutshell, IPA emphasizes efforts to be good stewards of our public lands, to keep our forests clean, and to help protect individuals' rights to ride trail machines on public lands.
We are entirely volunteer operated and derive our operating budget by growing the cumulative power of the "peoples voice" through memberships, but also through important fundraisers to reinforce our ability to continue tackling the issues that we are passionate about concerning our rights to access and enjoy trails.
Our Idaho Pathfinders Association 2023 FUNDRAISER & AUCTION DINNER EVENT is one of those fundraisers that will help to replenish the coffers and continue to fulfill that overall mission.
To gauge the meal numbers and overall success of the event that our committee is working so hard to organize, pre-sale of dinner tickets is necessary. Tickets for entry are $60 for a couple or $35 for a single ticket. Tickets are available via many sources. Tickets will not be sold at the door so advance purchase is necessary. Check the contact phone numbers on this flyer to arrange to purchase tickets and please also download the pdf flyer to share with friends.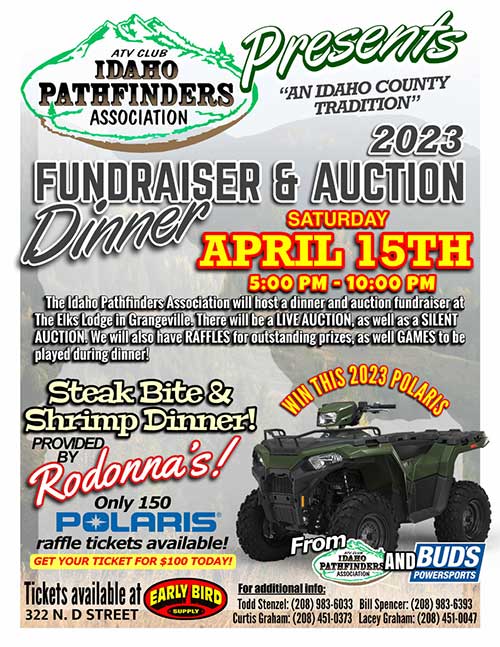 DOWNLOAD PDF FLYER HERE:
Call any one of the persons listed at the bottom of this flyer, included as a pdf link as well.
This is going to be a FUN NIGHT of camaraderie among friends, Steak Bite & Shrimp Dinner catered by Cottonwood based Rodanna's, and a LIVE AUCTION as well as a SILENT AUCTION. We've collected many outstanding PRIZES including firearms, ammo, a safe, decadent desserts and so much more! There will also be GAMES organized to be played during the dinner.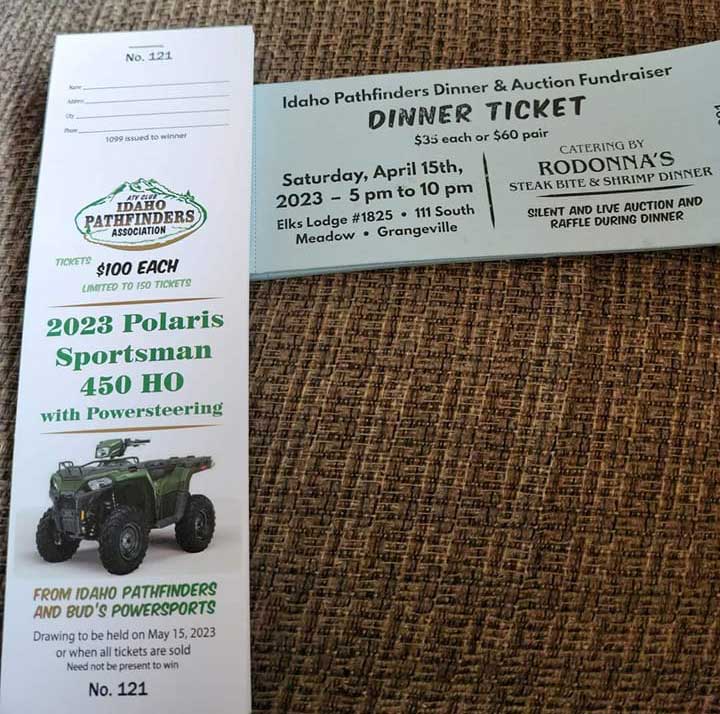 IPA is also selling raffle tickets for your chance to win a 2023 Polaris 450 ATV acquired from Buds Power Sports (one of our IPA Sponsors). Tickets for the ATV Raffle are $100 ea and we are selling only 150 tickets so your odds are great!
Get ready for a fun night by getting your tickets in advance to have some fun and help Idaho Pathfinders to continue our legacy to help protect individuals' rights to ride trail machines on public lands.
Pittsburgh Landing Hamburger Ride – Sunday March 19th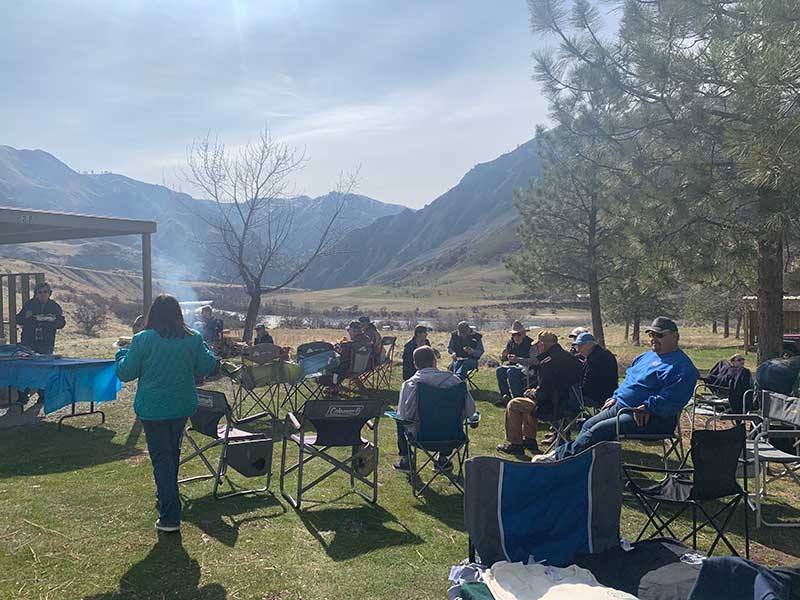 As a quick mention, the Sunday March 19th gathering of trail blazers over at Pittsburgh Landing pavilions was a SUPER GREAT EVENT. The weather was PERFECT! We saw a very large showing of members and signed up new members, as well as all of us enjoying hamburgers and hotdogs supplied by IPA as well as plentiful side dishes shared by members. Desserts were auctioned off. We also had a 50/50 raffle and $225 was the prize won by Curtis and Lacey's son who bet on his odds and won. Days like last Sunday – outdoors and in the sunshine catching up with friends is some of the BEST THINGS in life.
BIG THANK YOU's to all who participated, helped and supported IPA and the efforts we are committed to as a collective voice to protect our trails.
And we welcome ALL NEW MEMBERS. Please feel free to share our website with friends and do your part to spread the word about the value of a membership with Idaho Pathfinders Association.

DOWNLOAD OUR MEMBERSHIP FORM HERE: $25 for a family and $20 for single. Be part of the VOICE of the people to keep trails open!